THE CHALLENGE
When an organization takes on an extraordinary mission, how does one leverage technology to address the needs of the community they serve?
The All In, All The Time Foundation was established in 2008 as a tribute to the memory of Navy SEAL SOCS Tom Valentine. Tom was an elite Naval Special Warfare warrior who served with honor and integrity on and off the battlefield and stood ready to lead, ready to follow and vowed to never quit. In that spirit, the All In, All The Time Foundation provides an immediate response to the interim needs of the surviving spouses and children of our fallen Naval Special Warfare warriors through money raised from merchandise sales, as well as the proceeds from a number of events the Foundation organizes.
The existing AIATT web properties handled these functions separately, which led to challenges in managing these non-integrated sites, as well as a disjointed overall user experience. Additionally, none of these properties were optimized for mobile, which hindered the Foundation's ability to capitalize on the ever growing number of smartphone and tablet users.
THE SOLUTION
Perigee Labs immediately saw that singular web property, optimized for mobile viewing, with integrated event management and eCommerce capabilities, would go a long way towards removing any technological barriers to the Foundation's service to the NSW community.
WordPress CMS
As the previous iteration of the website was built on WordPress, the Foundation had an established comfort level with using that platform. With it's huge community of developers and devotees, established technology stack, myriad of powerful plug-ins and rich themes, and well-documented flexibility and ease-of-use, leveraging the power of WordPress as the foundation for the new site was the smart choice.
Event Management
The Foundation had previously used an external system to manage the numerous events they hold throughout the year, but found the registration process cumbersome and unwieldy. After evaluating the system requirements, Perigee Labs recommended the EventEspresso plug-in for WordPress to handle event registration and management. Not only did this plug-in work seamlessly within the site theme, but set-up was drop-in easy. A robust feature set and add-on capability ensured that this new system could grow along with the Foundation's future technology requirements.
eCommerce
With a wide selection of nicely branded apparel and merchandise (check out aiatt.org/shop!) the Foundation needed a solution to make selling a snap. Their previous eCommerce site was not integrated with their website nor were there many options to extend the system to adapt to changing needs. For Perigee Labs, the solution was clear – integrating WordPress's premier eCommerce plug-in, WooCommerce. Once activated, WooCommerce made the set-up and management of the Foundation's merchandise sales boringly easy.
Responsive Web Design
There can be no question that the present and future of web technologies lies within mobile. A responsive web design uses front-end code to change the display and layout of web pages dependent on the screen parameters of the device being browsed, whether it's a tablet, desktop, laptop or phone. With eCommerce and event management so cleanly incorporated into the new site, having all that functionality clearly and cleanly displayed on a phone or a tablet made for a powerful singular experience in line with today's web trends.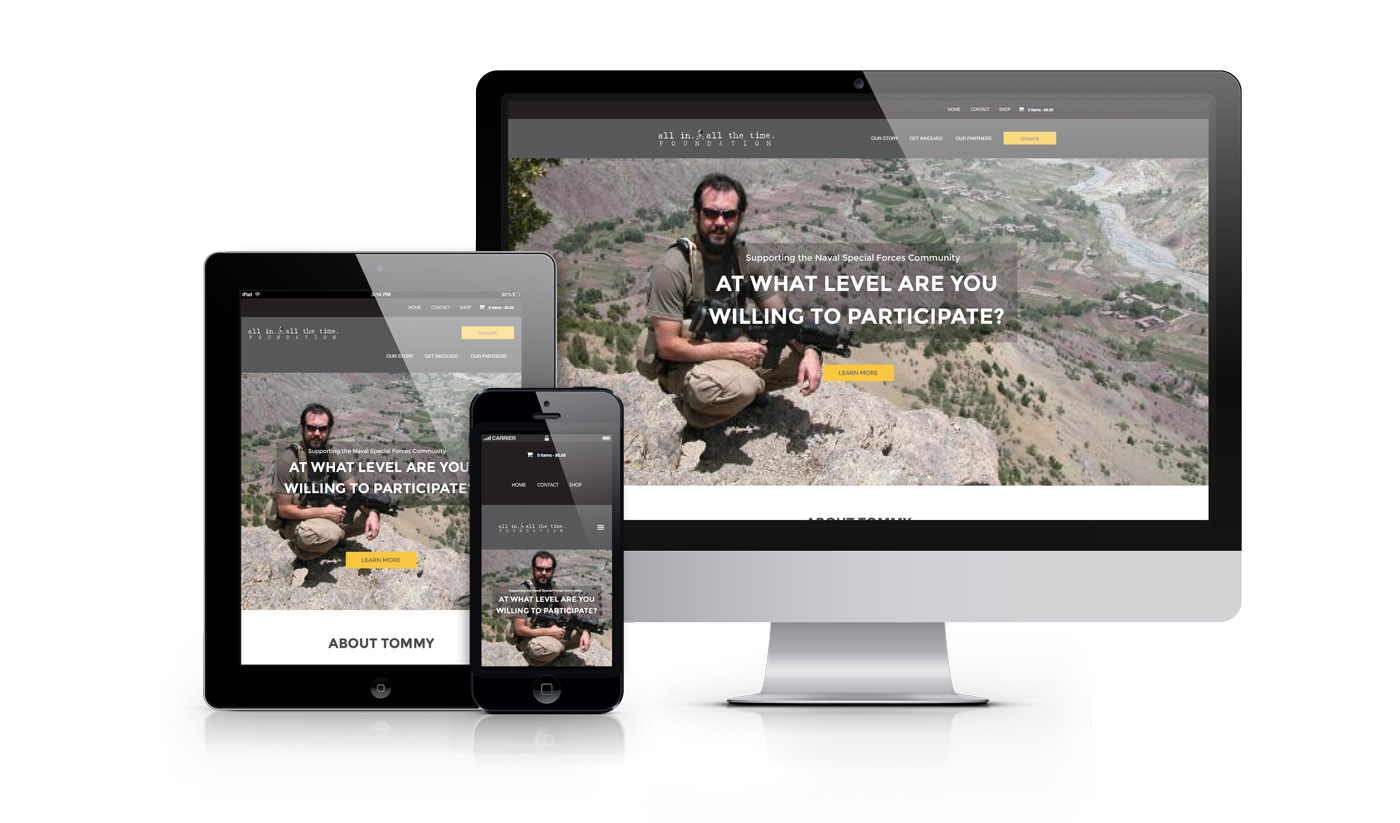 THE RESULT
In the end, the new aiatt.org website brought a new fresh look, modern screen optimization, and powerful eCommerce and event management flexibility to the Foundation's online presence. From Rachael Fussell, Executive Director for AIATT,
"The team at Perigee Labs have taken our non-profit foundation to a whole new level with this amazing new website. It's very challenging with the number of non-profits today, to convince people to give you their money. By taking our website design to the next level, and helping us to incorporate our gear sales pages, and event registrations, it has truly made our website a one-stop-shop for our donors".
At Perigee Labs, we look forward to continuing to work with the Foundation to ensure aiatt.org continues to be an effective tool in supporting their extraordinary mission.